Louisville, Clarksville, Mount Washington, KY Ridge Vents & Roof Ventilation
Bone Dry Roofing installs soffit, gable & ridge vents for effective attic ventilation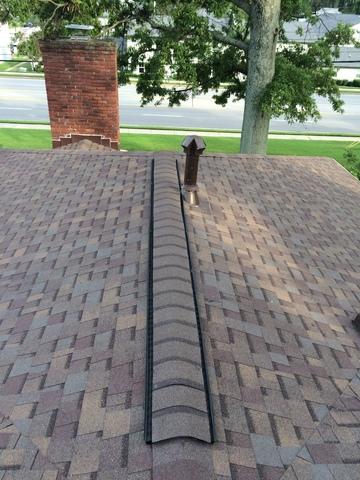 On a typically roof with asphalt shingles, ridge vents have a layer of shingling over them. Warm attic air rises to this vent and goes outside via these vents.
Ridge and roof ventilation isn't typically talked about, probably since homeowners usually concern themselves with keeping their home dry. Ventilating a roof and attic can actually lower your heating and cooling utilities, make your home more comfortable, and even give your roofing shingles a longer life.
During hot weather months, roof ventilation allows the hottest air to escape, which can make less work for the AC system. Then in the colder months, ridge vents and attic insulation help keep the roof surface cold, so you don't get snow melt on the roofing which can then freeze and cause ice damming.
Bone Dry Roofing is an expert roofer and fixes and installs ridge vents and roof vents too. To start your FREE ridge vent installation estimate in Louisville, Clarksville, Mount Washington and throughout Kentucky, just call or email us today!
Kinds of Ridge Vents
There are many kinds of roof venting and strategies for ventilating roofing and attic spaces. Here are a few:
Roof Vents Can Add Life to Your Rooftop
If you happen to have a poorly or unventilated roof or attic, it may be a good idea to ask your local roofer about ridge, soffit or gable-end vents and if they can help your home. These can all be retrofitted, or put on existing roofing or upon roof replacement.
Bone Dry Roofing will help you expertly choose the right type of vent, plus we can repair or replace ventilation and roofing shingles. can help you choose the right type of roof vents for your home. We've worked throughout Greater Louisville for many years, including Louisville, Clarksville, Mount Washington, New Albany, Jeffersonville, Bardstown, Elizabethtown, Simpsonville, Pewee Valley, Prospect and nearby. Call now!
Looking for a price? Get a no cost, no obligation free estimate.