About Bone Dry Roofing
Bone Dry Roofing's Louisville office has over nine years of experience serving the roofing, gutter, and masonry needs of local homeowners. Our headquarters in Indianapolis has been in business since 1989, and with ten offices across six states, Bone Dry is one of the largest roofing companies in the Midwest. But we are still a family owned and operated business, and high-quality services and exceptional customer care are our top priorities.
All of our technicians are fully trained and certified to carry out work needed, and we also offer 24/7 emergency services to give homeowners much-needed peace of mind. We schedule appointments at a specific time, not a time period, for your convenience. We are also heavily involved in our community - you've probably seen our trucks and apparel around town! If you're looking for help with your home's exterior, just give us a call.
About the General Manager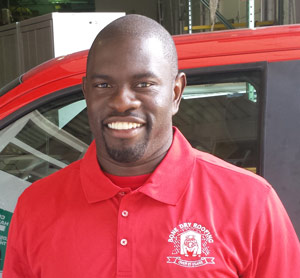 Louie Leger, General Manager, is in charge of day-to-day operations at Bone Dry Roofing.
Louie Leger has been with Bone Dry Roofing's Louisville office for nearly 10 years. He started working at the company just after graduating college. Louie's background in competitive sports and his college degree gave him insight into how to lead a business and bring people together to achieve joint goals; these skills help Bone Dry Roofing grow every day.
Louie holds many certifications, including those from Owens Corning, CertainTeed, and the Kentucky Roofing Contractors Association, that help him perform his duties. Another big part of his job is to make sure that every employee is following our core values of integrity, commitment, and professionalism.
Outside of work, Louie enjoys spending time with his family and friends. He also loves to travel - his dream is to see as much of the world as he can. When he's in the area, you can find him at live sporting events or spending time outdoors.
Giving Back
Here at Bone Dry Roofing, we believe in showing our community just how much they mean to us. We have sponsored local baseball teams, and we have also supported many organizations. We have worked with United Way, the Wounded Warrior Project, Habitat for Humanity, and many other companies and programs - read more about our community involvement!
Our Certifications and Awards
Over the years, Bone Dry Roofing has been recognized several times for our skills and dedication to customer service. We are an Owens Corning Roofing Platinum Preferred Contractor, and we are also Top of the House Certified and have taken the Shingle Recycling Pledge through Owens Corning.
As a certified member of the National Roofing Contractors Association (NRCA) and with an A+ rating with the BBB, we have built a reputation for reliability and exceptional service. Additionally, we have been awarded the Journal Carrier Reader's Choice Award for best rating every year since 2012. Plenty of customers and organizations alike have put their faith in us and are not disappointed with the results!
Bone Dry Roofing is a big believer in community service, and our office here in Louisville has contributed to several organizations and events in order to give back. We support Habitat for Humanity and the United Way; we also work with local churches to identify people in need and complete free repairs. To read more about what we do, visit our Community Involvement page!
By Janet B.
Carrollton, KY
By Rick D.
Shelbyville, KY, KY
By Jennifer G.
Shelbyville, KY
Our Certifications
As such a large roofing company, we rely on the recommendations of industry organizations to help do our best work for our customers. We are a part of the Kentucky Roofing Contractors Association and a member of the Homeowners Resource Guide. We are certified through various manufacturers, including Owens Corning, GAF, and CertainTeed. We also have an A+ rating with the BBB and we have won several Angie's List Super Service Awards.
Everyone here at Bone Dry Roofing is very proud of the work we do, and we would not be able to continue to grow as a company without the help of these organizations and the support of our customers!
About the Owner
Gene Judd
Gene Judd is the President and CEO of Bone Dry Roofing. He has a lifetime of experience in the industry, as he got his start in the roofing business as a kid.
In 1989, soon after he graduated from college, Gene started Bone Dry with just a truck and a garage office to its name.
Gene holds roofing certifications from Owens Corning, CertainTeed, GAF, and Air Vent Inc. His experience, combined with his dedication to his customers and his hands-on attitude, drives Bone Dry's success each and every day!